Jul 24, 2010 (Weekend Edition Saturday)
Will Grozier, who drives a taxi in London, is no ordinary cabbie. NPR's Scott Simon calls him "the best-read man that I have ever encountered in my life" — which is why NPR occasionally calls Grozier up for reading recommendations.
Our cabbie likes to mix things up by reading both fiction and nonfiction; new releases and older volumes; serious tomes and lighter fare; and, of course, a healthy helping of whatever people leave in the back of his cab. Here's a list of what Will Grozier loves right now, books that captivate whether you're poring over them on the beach or sampling them on a short taxi ride.


---
Solar
By Ian McEwan, hardcover, 304 pages, Nan A. Talese, list price: $26.95
Grozier calls Solar, the latest novel by Ian McEwan, "an absolute hoot."
"It's completely in a different direction to anything that he's ever done before," Grozier says of the author who's best known for dark, weighty tales like Atonement and On Chesil Beach.
Solar focuses on Michael Beard, a Nobel Prize-winning, five-times-married physicist whose professional success is a dramatic contrast to his messy personal life. Beard's life changes when he inadvertently stumbles upon an amazing technology that can convert solar power into usable electric energy.
"But the way that he comes upon this is germane to the plot," Grozier says, "so I won't spoil it."
Suffice it to say that nothing is the same for Beard after this discovery — and that, according to Grozier, Solar is Ian McEwan "as you've never read him before."
(McEwan discusses what inspired Solar and the challenges of writing about brilliant scientists in this interview with NPR's Lynn Neary.)
---
The Extinction Event
By David Black, hardcover, 304 pages, Forge Books, list price: $25.99
David Black knows a thing or two about crafting suspenseful, tight, fast-paced stories. The author of 10 novels and works of nonfiction has also dabbled in television — he's penned and produced several episodes of Law & Order.
His latest novel,The Extinction Event, which Grozier calls "a rattling good read for the beach," is a noir mystery about lawyer Jack Slidell, who finds himself a suspect in a murder case after being caught in the wrong place at the wrong time. As he embarks on a journey to clear his name, Jack discovers that the murder is the least of his worries. More important is it's connection to the governmental cover-up of a potentially apocalyptic event.
Grozier is loathe to reveal any more details — "Again, I don't want to give too much away for your readers." Still, he can say with certainty that The Extinction Event has plenty of twists and turns, as well as a good amount of "sex and drugs and literary rock 'n' roll."
---
A Week in December
By Sebastian Faulks, hardcover, 400 pages, Doubleday, list price: $27.95
The name of the author behind A Week In December may look familiar to anyone who prefers their martinis shaken, not stirred. Sebastian Faulks is the British novelist who Ian Fleming's estate contracted to write a new James Bond book: Devil May Care, which was released in 2008.
"I don't know how well that went," Grozier says. He recalls seeing the Bond reboot in a secondhand store soon after it was published, a sign that Faulks' work may not have been entirely successful.
A Week In December, though, is another story altogether. While Grozier calls this novel a "little bit deeper, little bit darker than the first two" of his recommendations, it's also "a little more meaty."
Faulks follows seven people over the course of one week in London.
"There's a hedge fund manager, a London Underground train driver, a down-on-his-luck lawyer," Grozier says. "Oh, and he has some potential bombers that have been brainwashed by an Islamic fundamentalist."
Members of this piecemeal party eventually interact with one another over the course of the book, which attacks the greed of the banking industry and the evils of fundamentalism. (Faulks talks about the ideas he explores in A Week In December in this interview.)
---
Brooklyn: A Novel
By Colm Toibin, paperback, 272 pages, Scribner, list price: $15
Next up is a book that Grozier "will challenge the guys to read."Brooklyn is the story of a young Irish immigrant making her way in the Big Apple.
"Like many of the Irish writers that I've read in recent years," Grozier says, "[Colm Toibin] seems to have a very, very deft touch when it comes to portraying women."
Toibin's heroine, Eilis Lacey, migrates across the Atlantic in the early 1950s to find a better job. The journey has an impact on more than just Eilis's bank account.
"Almost imperceptibly," Grozier says, "[she] undergoes a fundamental change of approach because of her new surroundings, her new environment, her new interaction[s]."
But when she must travel back to her small home town in Ireland after a devastating tragedy, Eilis finds herself torn between her family and the life she's made for herself in the States.
"Ultimately, the story revolves around the decision that she has to make at the end of that rather tormented period," Grozier says. Of course, he won't spoil just what that decision is. (NPR's Maureen Corrigan calls Brooklyn a "profound story about ordinary limited options" and Jacki Lyden saysToibin writes "with care and precision.")
---
Pearl Buck in China: Journey to The Good Earth
By Hilary Spurling, hardcover, 320 pages, Simon & Schuster, list price: $27
As biographer Hilary Spurling notes — and Grozier quotes — Pearl Buck is in a unique position: the Nobel Prize-winning writer best known for penning The Good Earth is "a writer that's admired in the States but not read, and read in China but not admired." Buck finally gets the attention she deserves in Pearl Buck In China, which chronicles the American author's childhood.
The daughter of fervent Christian missionaries, Buck grew up roaming around the Chinese countryside. Her background made her an outcast in China and also alienated her from her classmates in the U.S. when she returned to attend Randolph-Macon College in Virginia.
Grozier says he found himself sympathizing with Buck in a way he hadn't expected when he learned that "what she did to escape this very, very difficult upbringing was to run up a tree and read Dickens." Moments like this endear Buck to modern readers and serve as testimony as to why she deserves to come out of obscurity. (NPR's Maureen Corrigan says that Spurling's biography "rescues Buck and some of her best books from the 'stink' of literary condescension.")
Copyright 2014 NPR. To see more, visit http://www.npr.org/.
Copyright(c) 2014, NPR
Mar 18, 2010 (Morning Edition)
Sebastian Faulks' A Week in December is a seven-day tour of modern London written in Dickensian style. Charles Dickens' rich cast of 19th century characters dealt with class conflict, wealth, poverty and true love. Faulks' modern-day characters deal with terrorism, greed, the Internet and — because some things never change — true love.
The satirical story unfolds in 2007 over the seven days before Christmas. Readers follow the characters all over the city and its suburbs — often underground on the famous Circle Line train.
True to form, the long cast of characters turns out to be linked to one another: There's a hedge fund manager and his drug-addicted son, a lawyer, a book critic, a train driver, and a successful Muslim businessman and his religiously minded son, who is deeply conflicted about the true message of Islam.
The backdrop of the book was inspired largely by Faulks' own experience — he tells NPR's Linda Wertheimer that he began thinking about the alternate reality of the banking world about 10 years ago, when he noticed that his London neighborhood of Notting Hill was filling up with bankers. (Back when he moved in, the neighborhood was made up mostly of artists and musicians.)
"I was having dinner with people earning $10 million a year," Faulks says. "This was strange to me and it was completely divorced from any reality that I understood."
He began writing A Week in December well before the financial markets unraveled.
"So much money was being made by banks and hedge funds," Faulks explains. "This was long before the credit crisis, and I began to understand that these vast fortunes were being made by trading things which didn't exist."
Faulks took a break from researching material for the novel to write Devil May Care, a sequel to the late Ian Fleming's James Bond series. When he returned to A Week in December, his storyline was overtaken by real life events; the financial boom was over.
"Instead of talking to this guy who was helping me about how much money was made and how it was done, he kept on looking down at his hand-held computer saying, 'Oh my God, another bank is going broke,' " Faulks recalls.
In keeping with 19th century novels, Faulks assigns punning names to some of his characters — particularly the villainous hedge fund manager, John Veals.
"I got his name from a real estate agent. I liked the name 'Veal' because it's a bit like venal, and of course veal is a kind of bloodless meat and these things to me suggested the character of John Veals. He is an extremely cold, bloodless, rapacious, calculating, ruthless, greedy son of a gun."
Many of Faulks' characters lead livelier lives in virtual worlds: They lead parallel lives in online gaming, play fantasy football, and get sucked into reality television programs. Faulks says he recognizes it in his own children — their eyes glued to hand-held screens when they're on family vacations.
"What A Week in December is about is the way that this whole city, London, has become detached from reality," Faulks explains.
The abstract nature of the financial world only reinforced for Faulks "the whole idea of a city which had completely lost touch with reality and preferred to live with its head up its rear end."
One character who is struggling with his identity is Hassan al-Rashid, son of pickle magnate Farooq al-Rashid. He's so disillusioned that he's easily swayed when a friendly extremist contacts him via a social networking Web site called YourPlace.
"This young man ... is led astray by demagogues and politically motivated people who want him to do a terrible thing — commit a terrorist outrage," Faulks says. "It is an extraordinary phenomenon to have homegrown terrorists in your country. ... And it is a kind of sadness I think that if you are a true believer in a certain fundamental way of looking at Islam then you are always going to be dissatisfied with the political structures that you find yourselves in because none of them really fit with the purity of the way of life that you aspire to."
He says that Hassan's character — a potential suicide bomber — is ultimately a victim, whereas Veals — a hedge fund manager — is a true predator. Faulks' book is full of good and evil, greed and generosity, and a few romances.
"It's a dark and angry book and it has dark and serious things to say about the way we live," he says. "I wanted there to be sunlight at the end. When you climb out of the Circle Line train, you emerge into the sun."
Copyright 2014 NPR. To see more, visit http://www.npr.org/.
A Week In December
By Sebastian Faulks
Hardcover, 400 pages
Doubleday
List price: $27.95
Read An Excerpt
Copyright(c) 2014, NPR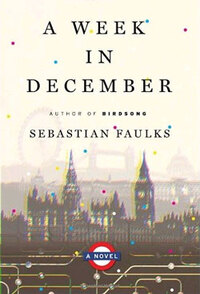 Mar 16, 2010
Linda Wertheimer hails a Dickensian novel of London in the boom days of 2007, before the banking bust. An encore by child detective Flavia de Luce (Sweetness at the Bottom of the Pie) is both creepy and laugh-out-loud funny. And So Much for That finds the hilarity in a relentless tale of runaway health care costs.
---
A Week In December
A Novel
By Sebastian Faulks
A former journalist and now an award-winning novelist, Sebastian Faulks has written nine books. The most recent before A Week in December was Faulks' venture into Ian Fleming territory, a new James Bond thriller called Devil May Care. A Week in December is about seven days in the lives of seven Londoners in 2007. The week is one organizing principle; another is the Circle Line, the subway that rings central London, enclosing the characters and taking them on their journeys. The book is partly a glimpse into what life in Britain's political, cultural and social capital is like today. It is also a powerful novel that weaves lives and stories together, with a focus on the electronic threads that often form the connections (and often not in a good way).
I raced through this book — twice. If you're a fan of Charles Dickens, A Week in December reads like a vastly entertaining new version of Our Mutual Friend, with a side order of Bleak House. Like Our Mutual Friend, High Society plays a satirical role in bringing a rich parade of characters before us. As in Bleak House, the book's villains are soulless manipulators of money, specifically a beyond-vicious hedge fund manager named Veals. Faulks says he began the book several years before it became clear just how heedless and destructive such people can be. Beyond the seven principals, Faulks has created more than 100 characters with names and back-stories. He looks at several views of Islam within the modern Western city, and at the real versus the virtual world — just two of many themes. He creates a reviewer who hates living writers and a woman who loves the life of her online avatar and is reluctant to admit that she also reads books. — Linda Wertheimer, senior national correspondent
Hardcover, 400 pages; Doubleday; list price, $27.95; publication date, March 9
---
The Weed That Strings The Hangman's Bag
A Flavia de Luce Mystery
By Alan Bradley
Eleven-year-old amateur chemist and detective Flavia de Luce first captured readers' hearts last year in Alan Bradley's debut novel,The Sweetness at the Bottom of the Pie. This follow-up finds the young English girl embroiled in another mystery: a famous puppeteer visiting Flavia's hometown of Bishop's Lacey is electrocuted during a performance of Jack and the Beanstalk, and the junior sleuth refuses to believe it was an accident. With the help of Dogger (her father's handyman), Gladys (her bicycle), and a well-stocked chemical laboratory, Flavia bikes circles around the skeptical, but indulgent, townspeople and local law enforcement (when she's not being tormented by her insufferable big sisters.)
If you're skeptical about the premise of the Flavia de Luce mysteries, you're forgiven. A cute little girl who solves mysteries in a picturesque English country town in 1950, in a novel set partly in a vicarage? It could hardly sound more twee if Miss Marple showed up with a cup of tea and a kitty. But Flavia is more Wednesday Addams than Nan Bobbsey, and there's a surprising edge to both Flavia and her latest case. For example, Flavia contemplates poisoning her sisters and wants to write a book about the decomposition of corpses; the supporting characters include an abusive puppeteer, the insane mother of a possibly murdered child and a marijuana farmer. Bradley's second novel is both creepy and laugh-out-loud funny, and his style is as dark, witty and charming as Flavia herself. — Michael Schaub, NPR book reviewer
Hardcover, 384 pages; Delacorte; list price, $24.00; publication date, March 9
---
So Much for That
A Novel
By Lionel Shriver
Journalist Lionel Shriver could not have picked a timelier subject for her new novel — the turbulent waters of American health care. Into these depths plunges Shepherd "Shep" Knacker, a man Shriver describes early on as "constitutionally obedient." Shep has done all the right things. He's scrimped, saved and labored (as a professional handyman, no less) his way to a nest egg, all so he can realize his American dream: to retire to a sunny Third-World isle. Shep prepares to launch himself into this new life (what he calls "The Afterlife") with or without his prickly wife Glynis. But she meets his ultimatum with some explosive news of her own: She's been diagnosed with a rare and virulent form of cancer. This initial salvo is only the first of many; into the mix Shriver adds an ailing elderly parent, a freeloading sibling and a surgical procedure associated more with e-mail spam than legitimate medicine. So Much for That opens, quite literally, with an accounting of Shep's Merrill Lynch portfolio — a sum that he tracks through the course of the novel and one that, as the story unfolds, will be spent down to within a cell of his (and his wife's) life.
It's my job to obsess over the news of the day that drives the headlines of shows like NPR's Morning Edition. So why would I want a hefty dose of current events in my leisure reading? It's precisely because artists like Lionel Shriver have the ability to illuminate mere events and bring them to life. Her books get under your skin because they're so very grounded in the real world. (Prior to So Much for That I'd read an earlier book of hers, We Need To Talk About Kevin, in which Shriver seems to have had the school shooting at Columbine on the brain.) Shriver can be relentless when it comes to inflicting pain on her characters. As a reader, you sometimes wish she'd let you come up for air. But art, like life, doesn't always cut us the breaks we desire. If we're lucky — and in the capable hands of a writer like Shriver — we emerge all the wiser for it. And don't let the weighty subject matter scare you off: the spot-on, often hilarious characterizations kept me reading hungrily until the very end. — Shannon Rhoades, supervising senior editor, Morning Edition
Hardcover, 448 pages; Harper; list price, $25.99; publication date, March 9
---
Copyright 2014 NPR. To see more, visit http://www.npr.org/.
A Week In December
By Sebastian Faulks
Hardcover, 400 pages
Doubleday
List price: $27.95
Read An Excerpt
Copyright(c) 2014, NPR