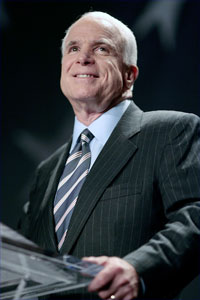 by Ashley Grashaw
Jul 8, 2008
Hear this
This text will be replaced
---
---
Explore this
Reported by
Ashley Grashaw
If he wins the election this November, Sen. John McCain (R-AZ), at 72, will be the oldest President in history to take his first oath of office. Some say that's too old, while others say it's just a number. When I think about it, I know a lot of grandparents, in their 60s, 70s and 80s, who are spry and completely able-minded — even more so than I am at 24! With all the modern advancements in medicine and nutrition, 72 isn't as old as it used to be.
We've heard a lot about racism and sexism in this campaign. But is McCain breaking barriers against ageism? What's your opinion — how old is too old to be President?
Copyright 2014 NPR. To see more, visit http://www.npr.org/.
Missing some content? Check the source:
NPR
Copyright(c) 2014, NPR