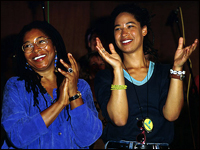 Jul 9, 2008 (News & Notes )
Hear this
This text will be replaced
---
---
Author Rebecca Walker and her mother, novelist Alice Walker, had a very public falling out over what Rebecca calls her mother's "fanatical feminist views."
Farai Chideya talks with Rebecca and psychologist Phyllis Chesler about motherhood, feminism, and forgiveness.
Chesler is the author of several books on women's issues, including the landmark, Women and Madness.
Copyright 2014 NPR. To see more, visit http://www.npr.org/.
Missing some content? Check the source:
NPR
Copyright(c) 2014, NPR