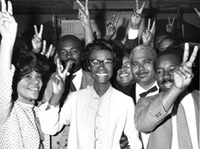 Nov 4, 2008
Hear this
This text will be replaced
---
---
Though Rep. Shirley Chisholm (D-NY) was the first black woman to win a seat in Congress, a long line of black women have followed in her footsteps. Here's a list of the black women who have served on Capitol Hill in the past 40 years.
Copyright 2014 NPR. To see more, visit http://www.npr.org/.
1995
Sheila Jackson Lee (D-TX)
Born: Jan. 12, 1950, in Queens, N.Y. Home: 18th District, Texas (Houston) Served: 1995 – present Education: B.A., Yale University, Conn., 1972; J.D., University of Virginia Law School, 1975 Jackson Lee gained her seat in 1994 after winning 63 percent of the vote against Democratic incumbent Craig Washington in the primary. The legislator, who founded the Congressional Children's Caucus, has been a member of several other caucuses and task forces, focusing on issues including hunger, economic renewal, affirmative action and space and aeronautics. Jackson Lee serves on the House Judiciary Committee, on which she has advocated for abortion rights and civil rights. She was the first African-American woman to serve as the ranking Democrat on the House Subcommittee on Immigration and Claims. The congresswoman has a reputation for being loquacious, energetic and, as President Bill Clinton once called her, a "fireball."
1996
Juanita Millender-McDonald (D-CA)
Born: Sept. 7, 1938, in Birmingham, Ala. Death: April 22, 2007, in Carson, Calif. Home: 37th District, California (Los Angeles) Served: 1996 – 2007 Education: B.S., University of Redlands, Calif., 1981; M.A., California State University, 1988 In March 1996, Millender-McDonald beat eight Democrats in a special election to replace Rep. Walter Tucker (D), who was convicted of extortion and tax fraud. The congresswoman was a member of the House Small Business and House Transportation and Infrastructure committees. Her appointment on the latter led to her legislative efforts in trying to secure mass transit systems against terrorism, proposing environmentally sound methods of transporting chemical and nuclear waste, and creating a number of transportation projects in her district. In her first year in the House, Millender-McDonald called for investigating the CIA and any connection to the crack cocaine trade. In 2007, she became the first black woman to chair the House Administration Committee.
1997
Julia Carson (D-IN)
Born: July 8, 1938, in Louisville, Ky. Died: Dec. 15, 2007, in Indianapolis, Ind. Home: 7th (formerly 10th) District, Indiana (Indianapolis) Served: 1997 - 2007 Education: Attended Martin University, Ind., and Indiana University-Purdue University Carson was raised by a teenage mother in Indianapolis. Although she took college classes, she never received a degree. When Rep. Andy Jacobs (D) retired in 1996, Carson won against Democratic Party Chairwoman Ann Delaney in the primary. She went on to beat Virginia Blankenbaker (R) in the general election, becoming the first African-American and first woman to represent her district. Her legislative initiatives often focused on working-class Americans: She supported restrictions on NAFTA to prevent the exportation of low-wage jobs from her district, and she sponsored a sweeping bill to develop new railroad infrastructure. It created jobs, too. Carson also authored and championed a bill to confer the Congressional Gold Medal upon Rosa Parks for her role in the civil rights movement. When it passed, Carson said, "This is one of the best days of my life."
1998
Barbara Lee (D-CA)
Born: July 16, 1946, in El Paso, Texas Home: 9th District, California (Oakland) Served: 1998 – present Education: B.A., Mills College, Calif., 1973; M.S.W., UC-Berkeley, Calif., 1975 In April 1998, Lee won a special election following the retirement of Rep. Ron Dellums (D), for whom she had served as chief of staff and whose endorsement she secured. In Congress, she has been an advocate for the economically vulnerable, criticizing lenders who prey on poor, debt-ridden Americans, and supporting equal access to health insurance in underprivileged areas. As a member of the House Foreign Affairs Committee, Lee is an outspoken advocate of peaceful resolutions to international disputes. She has consistently voted against the use of force, epitomized by her casting the lone vote against authorizing the bombing of Yugoslavia in 1999. She is the only member of Congress to vote against President Bush's 2001 resolution authorizing the use of military force in the wake of the Sept. 11 attacks.
1999
Stephanie Tubbs Jones (D-OH)
Born: Sept. 10, 1949, in Cleveland, Ohio Died: Aug. 20, 2008, in East Cleveland, Ohio Home: 11th District, Ohio (Cleveland) Served: 1999 – 2008 Education: B.A., Case Western Reserve University Law School, Ohio, 1971; J.D., Case Western Reserve University, 1974 When veteran Rep. Louis Stokes (D) retired in 1998, Tubbs Jones won the Democratic nomination from a field of five contenders and went on to become the first African-American woman to represent Ohio in Congress. During her tenure, she served on several panels, including the House Financial Services Committee, and was chairwoman of the House Standards of Official Conduct Committee. She was the first black woman to serve on the House Ways and Means Committee. While mostly enacting a liberal agenda, Tubbs Jones broke with her party by actively supporting free trade legislation. During the 2004 presidential election, when her state was in the spotlight, Tubbs Jones led the House floor fight against certifying President George W. Bush's second term, citing a motivation not to block his election but to expose a need to reform the electoral system.
2001
Diane Watson (D-CA)
Born: Nov. 12, 1933, in Los Angeles, Calif. Home: 33rd District, California (Los Angeles) Served: 2001 – present Education: B.A., UCLA, 1956; M.S., California State University, Los Angeles, 1967; Ph.D, Claremont Graduate University, Calif., 1986 After the death of Rep. Julian Dixon (D), Watson won a special election in June 2001, assuming seats on the House Government Reform and House Foreign Affairs committees. As a representative from Los Angeles, Watson also serves as chair of the Entertainment Industries Caucus. For the Foreign Affairs panel, she serves on the Subcommittee on Africa and Global Health. She has called for expanded aid to combat HIV/AIDS, citing the pandemic as both a humanitarian and national security issue. She also supports expanded welfare programs through what she calls "commonsense" reform, and has supported a number of legislative efforts to expand health care access.
2003
Denise Majette (D-GA)
Born: May 18, 1955, in Brooklyn, N.Y. Home: 4th District, Georgia (Stone Mountain) Served: 2003 – 2004 Education: B.A., Yale University, Conn., 1976; J.D., Duke University, N.C., 1979 In the 2002 Democratic primary, Majette unseated five-term incumbent Rep. Cynthia McKinney and went on to beat her Republican rival by a large margin. Her tenure in the House was short-lived as a result of her running for Senate unsuccessfully in 2004. In Congress, Majette served on the House Budget, Education and Workforce and Small Business committees. She was an advocate for women and children, criticizing the Bush administration's record on domestic violence and supporting increased funding for the Head Start program.
2004
Gwen Moore (D-WI)
Born: April 18, 1951, in Racine, Wis. Home: 4th District, Wis. (Milwaukee) Served: 2005 – present Education: B.A., Marquette University, Milwaukee, Wis., 1978 Moore, who became a single mother at age 18, handily beat Republican Gerald Boyle in 2004 to win her district's open seat and become the first African-American to represent Wisconsin in Congress. She serves on the House Budget, Financial Services and Small Business committees. She advocates expanding government's role in combating poverty. She has focused on improving low-income areas' economies through legislation to curb predatory lending. She also has worked to prevent discrimination in hiring minority-owned businesses for government contracts. Moore wrote the SHIELD act, which implemented measures to protect victims of domestic violence who had fled their homes.
2007
Yvette Clarke (D-NY)
Born: Nov. 21, 1964, in Brooklyn, N.Y. Home: 11th District, N.Y. (Brooklyn) Served: 2007 – present Education: Attended Oberlin College, Ohio, 1982-86. After defeating three others in the primary in her heavily Democratic district, Clarke won the seat once occupied by Rep. Shirley Chisholm when Rep. Major Owens retired in 2006. (She had mounted an unsuccessful primary campaign against Owens in 2004.) A member of the House Education and Labor, Homeland Security and Small Business committees, Clarke has sponsored legislation to help minority businesses and homeowners. Like Chisholm and a good portion of her constituency, Clarke is of Caribbean descent, and she has worked in Congress to promote improved relations with Caribbean nations.
2008
Donna F. Edwards (D-MD)
Born: June 28, 1958, in Yanceyville, N.C. Home: 4th District, Maryland (Gaithersburg) Served: 2008 – present Education: B.A., Wake Forest University, N.C.; J.D., Franklin Pierce Law Center, N.H. After unsuccessfully contesting longtime incumbent Rep. Albert Wynn in the 2006 Democratic primary, Edwards beat him in the 2008 primary. Wynn then announced that he would retire before the end of his final term, and Edwards took 81 percent of the vote in a June 2008 special election to succeed him. Upon being sworn into Congress, she was appointed to two committees: House Transportation and Infrastructure as well as House Science and Technology.
1973
Yvonne Brathwaite Burke (D-CA)
Born: Oct. 5, 1932, in Los Angeles, Calif. Home: 37th District, California (Los Angeles) Served: 1973-1979 Education: B.A., University of California, 1953; J.D., University of California School of Law, 1956 Already well-known in California political circles, Burke gained national exposure when she served as vice chairwoman of the 1972 Democratic National Convention. That same year, she became the first black woman from California elected to Congress, overwhelmingly defeating opponent Gregg Tria with 73 percent of the vote. Burke served on the House Appropriations Committee and the House Select Committee on Assassinations, and she was the first woman to take the helm of the Congressional Black Caucus. Burke was the first legislator to give birth while serving in Congress, making her the first member of Congress to be granted maternity leave.
1982
Katie Beatrice Hall (D-IN)
Born: April 3, 1938, in Mound Bayou, Miss. Home: 1st District, Indiana (Gary) Served: 1982-1985 Education: M.S., Indiana University, 1968 Hall won her congressional seat in 1983 during a special election called after Rep. Adam Benjamin (D) died in office. Already a state legislator, she drew 63 percent of the vote and defeated Republican Thomas Kreiger for the open seat, going on to easily win re-election for a full term. As chairwoman of the House Subcommittee on Census and Population, she introduced a bill to make the Rev. Martin Luther King Jr.'s birthday a federal holiday.
1991
Barbara-Rose Collins (D-MI )
Born: April 13, 1939, in Detroit, Mich. Home: 13th and 15th Districts, Michigan (Detroit) Served: 1991-1997 Education: Attended Wayne State University, 1957 Collins was elected to represent Michigan's 13th District in 1990 after an earlier unsuccessful run for Congress. After redistricting following the 1990 census, Collins represented Michigan's 15th District. She served on the House Public Works and Transportation Committee, among others, and was appointed majority whip at-large in 1993. Collins vocally opposed the North American Free Trade Agreement and extending the death penalty to more federal crimes.
1993
Carol Moseley Braun (D-IL)
Born: Aug. 16, 1947, in Chicago, Ill. Home: Chicago, Ill. Served: 1993 - 1999 Education: B.A., University of Illinois at Chicago, 1969; J.D., University of Chicago Law School, 1972 When Moseley Braun was elected, she was the first black woman to win a Senate seat, the first woman to defeat an incumbent senator in an election and the first female senator from Illinois. She served on the Senate Judiciary, Housing and Urban Affairs, and Small Business committees. During her Senate term, Moseley Braun pressed for health care and education reforms, introducing the 1994 Educational Infrastructure Act. She launched an unsuccessful bid for president in 2004, later endorsing Howard Dean.
Missing some content? Check the source:
NPR
Copyright(c) 2014, NPR