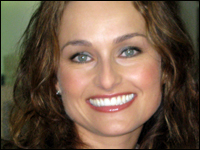 Nov 27, 2008 (News & Notes )
See this

---
Hear this
This text will be replaced
---
---
Thanksgiving, of course, is about family. But it's also about the food.
Farai Chideya talks with famed TV chef Giada De Laurentiis, host of Food Network's Everyday Italian and Giada at Home about some of her favorite Thanksgiving recipes and how she manages her busy career.
De Laurentiis's newest cookbook is Giada's Kitchen: New Italian Favorites.
Copyright 2014 NPR. To see more, visit http://www.npr.org/.
Missing some content? Check the source:
NPR
Copyright(c) 2014, NPR