Karen Armstrong
Feb 12, 2013
— Strident strains of atheism often ignore the history of humanity's search for spiritual answers to the universe we live in. They shouldn't. One person who can help open the door to this vibrant landscape is the author Karen Armstrong.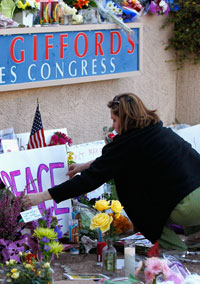 Jan 10, 2011
— In the first hour of
Talk of the Nation
, Arizonans talk about trying to make sense of Saturday's tragedy.  In the second hour, 12 steps to compassion, and Guantanamo Bay on the opinion page.
Nov 12, 2007
— Karen Armstrong writes a rather unorthodox biography.
more Karen Armstrong from NPR
---